WHEN: Tuesday, Mar. 29th, 1:00PM ////  WHERE: NYU Music Dept. Rm 365 (24/32 Waverly Place, NY 10003) /// This event is free and open to the public.
abstract
In this listening session, Spanish composers and musicologists Ferrer-Molina and Miguel Álvarez-Fernández will present an overview of recent electroacoustic music from their country. These multi-channel pieces, by authors representative of different generations and regions (Eduardo Polonio, born in Madrid in 1941; Josep Manuel Berenguer, born in Barcelona in 1955; Gregorio Jiménez, born in Valencia in 1960; and Miguel Ángel García, born in Vitoria in 1981), provide a broad outlook into contemporary music trends. During the presentation, Álvarez-Fernández and Ferrer-Molina will also discuss the historical and aesthetic context out of which these compositions and musicians have emerged, and will also try to establish connections with other international developments.
All the composers discussed in this session are members of the AMEE (Asociación de Música Electroacústica y Arte Sonoro de España – Spanish Association of Electroacoustic Music and Sound Art from Spain).
bios
Since 2014, Miguel Álvarez-Fernández and Ferrer-Molina serve at the board of directors of the AMEE (Spanish Association for Electroacoustic Music), which —among many other activities— holds the annual festival "Punto de Encuentro" in different cities of Spain and abroad.
F
errer-Molina is a sound artist, musicologist, conductor and critic, with degrees in guitar, piano, choir conducting, music education, musicology and composition at different conservatories of Valencia and Madrid, Spain. He studied electroacoustic composition mostly at LEA (Conservatory of Valencia) and LIEM / CDMC (Reina Sofía, Madrid). He holds a Ph.D. in Fine Arts at the Polytechnic University of Valencia and he is the author of the upcoming book "Heterodoxy of the guitar. Taxonomy of new artistic practices", by the "Notebooks of Fine Arts/Music Collection".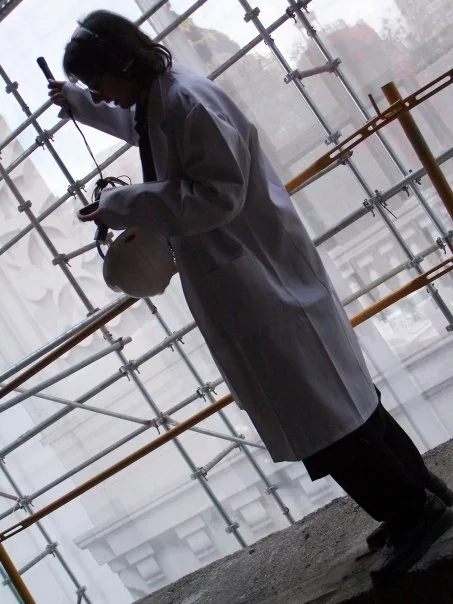 Miguel Álvarez-Fernández is a sound artist, musicologist, sound theorist and curator, born in Madrid in 1979. After his studies in Composition at the Conservatory of El Escorial (Madrid), he was appointed composer-in-residence at the historical "Residencia de Estudiantes" between 2002 and 2005. He is finishing his Ph.D. in Musicology (M.A. from the University of Oviedo). Álvarez-Fernández is a teacher of music at the European University of Madrid (UEM) and since 2008 he hosts "Ars Sonora", a weekly radio broadcast featuring experimental music and sound art aired on Radio Clásica/RNE (Spanish National Radio).